Divisions
The Yarmouth Police Department proudly employs a dedicated group of professional men and women who work daily in a concerted effort to deliver the best possible policing services to our residents, business community and our visitors…
Learn More about YPD
Community Policing Award
The Yarmouth Police Department has received the New England Association of Chiefs of Police Community Policing Award for 2012 and was presented with the extraordinary award during a special ceremony on Wednesday, February 27, 2013 at 10:00 AM at Yarmouth Police Headquarters.
Learn More
Community Resources
We truly believe in keeping our Yarmouth community strong and informed about public safety topics as well as community resources and support services.  We hold many partnerships and joint initiatives with local business and government institutions to help provide a breadth of information and support
Learn more
YPD Citizens Center
Find quick information, services and links to what's going on in our community.
Chat with the Chief about the challenges and successes in policing our community.
All Public Records Requests must be made by via email.  Requests should be sent to records@yarmouth.ma.us
Drug & Syringe receptacle located in the lobby 24 hours a day, 7 days a week. No questions asked.
You are not alone.  Find the resources you or your loved ones need for addiction support.
Safety Checks & Information
Get crash and crime reports and access important safety information below.
Yarmouth Business Center
Yarmouth Police Department takes a proactive approach to policing our community and keeping citizens and business safe.  We invite businesses to use the quick links below to help keep their security in check.
Business District Service Notification Cards
Did your business receive a service notification card?  Click here for info. 
Renew Alarm Registration
Don't get stuck with an expired alarm registration at the wrong time.  Renew or register your alarm.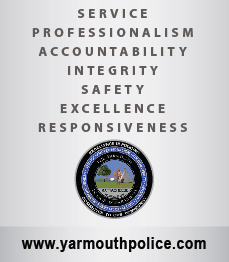 Update Business Contact Information
Click here to update our records with your new business contact information.  
Host Coffee with the Chief and be part of community policing right in your establishment.
YPD Communication Center
Find the latest news & information from Yarmouth Police Department including official press releases, important articles and our YPD Facebook info.
View current and archived official Yarmouth Police Department press releases for the year.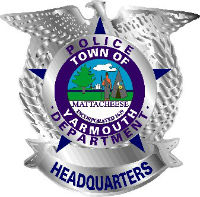 Have a great experience with our officers or department as a whole?  Share it here.