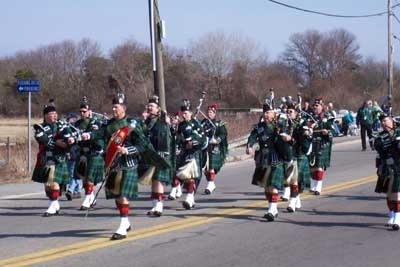 On Saturday, March 8, 2014 starting at 11:00 AM—the town of Yarmouth will be hosting the 9th Annual Cape Cod St. Patrick's Parade.
The Parade starts at 11:00 A.M. at Long Pond Drive and Route 28 in South Yarmouth and travels westbound on Route 28 ending at the Higgins Crowell Road and Route 28 intersection in West Yarmouth.
Sections of Route 28 from Long Pond Drive in South Yarmouth to Higgins Crowell Road will be closed from approximately 10:45 AM to 12:45 PM.
This will be another wonderful weekend in Yarmouth. Large crowds are expected. Operation Safe Ride Home will be in effect all weekend starting at 4PM on Friday and ending at 2AM on Sunday morning. Please call Town Taxi at 508.775.4555 for a free and safe ride home from any Yarmouth licensed liquor establishment.
For additional information about the 9th Annual Cape Cod St. Patrick's Parade please visit www.capecodstpatsparade.com