Firearms Licensing shall be completed through a mail-in process.  Please DO NOT come to the station to apply for your license at this time.
The following guidelines will assist you in submitting your application via US Mail:
New license applicants should download the Massachusetts Resident Firearms Application located at the bottom of this page
New applicants are required to take a Massachusetts Firearms Safety Course.  Upon completion of the safety course applicants will be issued a certificate which will be required documentation for the firearms license application.
New license applicants will be required to come to the YPD (AT A LATER TIME) to complete fingerprints.  We will continue to process your application until such time that fingerprints can be obtained post COVID-19 restrictions.
Renewal applicants will not require new fingerprints.
The fee for applications is $100.00, unless you are over 70 years of age.  If you are over 70 years of age, and this is a renewal the application is free. A check or money order is acceptable, made payable to TOWN OF YARMOUTH.
All applicants should mail their completed application form and your firearms safety certificate (if applicable), to:
Yarmouth Police Department
ATTN: Records Division
340 Higgins Crowell Rd
West Yarmouth, MA 02673
Please be sure to include a check or money order for the licensing fee in the amount of $100.
Also include your email address so that Records Staff can contact you with any questions and make arrangements for an appointment to obtain fingerprints.
A receipt of the transaction will be mailed to you.
For persons that renew their licenses BEFORE they expire, the transaction receipt will keep your current license active until the new one is either approved or denied. If you have any questions regarding firearms licensing procedures or applicable fees, please contact Records Officer Nicholas Giammarco at 508-775-0445 Ext. 2136 or

 

ngiammarco@yarmouth.ma.us
Firearms License to Carry Application
Firearm Fees as follows:
License to Carry                                                         $100.00
Firearms Identification Card                                    $100.00
Firearms Identification Card-under 18 YOA          $25.00
Renewal applicants over the age of 70                    FREE
Retired law enforcement personnel                       $25.00
Make all checks and money orders payable to TOWN OF YARMOUTH.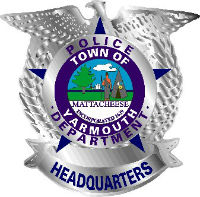 YPD Headquarters
340 Higgins Crowell Rd.
Yarmouth, MA 02673
Phone: (508) 775-0445
Fax: (508) 862-771-0443