On Wednesday, February 12, 2014 from 11:00AM to 5:00 PM the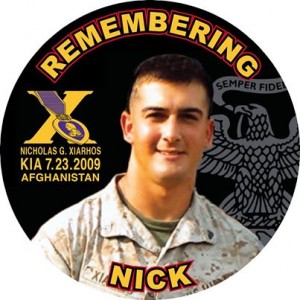 Yarmouth Police Department will host an important community blood drive in honor of fallen United States Marine Corporal Nicholas G. Xiarhos of Yarmouth.
Nicholas G. Xiarhos, a Class of 2006 graduate of Dennis-Yarmouth Regional High School, died on the battlefield at age 21 in Garmsir, Afghanistan while going to the rescue of his fellow Marines in combat on July 23, 2009 and this blood drive is being conducted at Yarmouth Police Headquarters in his memory to support and assist Cape Cod Hospital Blood Donor Services on what would have been Nick's 26th birthday.
All blood collected in this blood drive will stay on Cape Cod and is used to treat people in need here on Cape Cod. Any person over 17 in good health and weighing at least 110 pounds can become a blood donor and there is no upper age limit. You may make an appointment by calling Cape Cod Healthcare at 508-862-5663 or just stop in on the 12th and give the gift of life.
Every Three Seconds Someone is in Need of Blood.