Employee Phone Extension Directory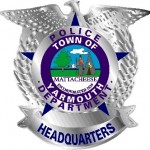 To leave a message for a specific employee please dial (508)775-0445 then enter the four digit extension listed next to their name. For Dispatch enter 2100 or press 0.  To email, click on the name of the employee you wish to contact.
For emergencies use 9-1-1.
| | | |
| --- | --- | --- |
| Name | Rank | Ext# |
| Frederickson, Frank | Chief | 2156 |
| | | |
| Kevin Lennon | Deputy Chief | 2150 |
| | | |
| Bryant, Michael | Lieutenant | 2122 |
| O'Malley, Andrew | Lieutenant | 2341 |
| | | |
| Boghdan, Kalil | Sergeant | 2313 |
| Britt, Gerard | Sergeant | 2315 |
| Donohue, Neal | Sergeant | 2136 |
| Fallon, John | Sergeant | 2320 |
| Hennessey, Francis | Sergeant | 2327 |
| Hennessey, Thomas | Sergeant | 2328 |
| McEachern, Christopher | Sergeant | 2336 |
| Warren, Walter | Sergeant | 2351 |
| | | |
| Giammarco, Russell | Detective | 2129 |
| Lundegren, Scott | Detective | 2332 |
| Nuss, Eric | Detective | 2132 |
| Renzi, Stephen | Detective | 2118 |
| | | |
| Kramer, Michael | K-9 Officer | 2330 |
| Thibeault, Marc | K-9 Officer | 2348 |
| Alden, Melissa | Patrol Officer | 2311 |
| Ambrosini, Nicholas | Patrol Officer | 2356 |
| Antonovitch, Kevin | Patrol Officer | 2312 |
| Aprea, Richard | Patrol Officer | 6088 |
| Batchelder, Jason | Patrol Officer | 6090 |
| Carchedi, Brian | Patrol Officer | 2371 |
| Cheverie, James M. | Patrol Officer | 2136 |
| Coville, Andrew | Patrol Officer | 2370 |
| Cruz, Paulo | Patrol Officer | 2355 |
| Dickey, David | Patrol Officer | 2319 |
| Fichter Jr., Richard | Patrol Officer | 2321 |
| Geary, Sean | Patrol Officer | 2366 |
| Giammarco, Nicholas | Patrol Officer | 2367 |
| Gibbons, Gordon | Patrol Officer | 2170 |
| Gibney, Mary | Patrol Officer | 2324 |
| Haire, Justin A. | Patrol Officer | 2326 |
| Kent, Christopher | Patrol Officer | 2326 |
| Lanata, Jr., John | Patrol Officer | 6048 |
| Magnuson, Philip | Patrol Officer | 2333 |
| Marino, Christopher | Patrol Officer | 2334 |
| Mellett, Paul | Patrol Officer | 2337 |
| Nickinello, Louis | Patrol Officer | 2338 |
| Niezgoda, Brian | Patrol Officer | 2339 |
| Noone, Mark | Patrol Officer | 2340 |
| Nugent Gomsey, C. | Patrol Officer | 2325 |
| Schneeweis, David | Patrol Officer | 2344 |
| Sheehan, Matthew | Patrol Officer | 2422 |
| Tsoukalas, George | Patrol Officer | 2349 |
| Wells, Diana | Patrol Officer | 6049 |
| Wells, Michael | Patrol Officer | 2358 |
| Wenberg, Erica | Patrol Officer | 2352 |
| White, Richard | Patrol Officer | 2353 |
| Zontini, Michael | Patrol Officer | 2354 |
| | | |
| Capobianco, Chris | Court Officer | 2138 |
| Sprague, Albert | Records Officer | 2346 |
| Brewer, Sean W. | School Resource Officer | 2314 |
| Pasquarosa, Nicholas | School Resource Officer | 2342 |
| | | |
| Brown, Katie | Dispatcher | 2369 |
| Curtis, Maria | Dispatcher | 2318 |
| Eccleston, Christopher | Dispatcher | 2418 |
| Fogarty, Jayne | Dispatcher | 2322 |
| Kubiak, Michael | Dispatcher | 6042 |
| Leidenfrost, Paul | Dispatcher | 6035 |
| Leighton, Jenifer | Dispatcher | 2368 |
| Peterson, Stephen | Dispatcher | 2343 |
| | | |
| Bohane, Nicole | Support Staff | 2115 |
| Gomsey, John | Support Staff | 2164 |
| Jacobson, Cheryl | Support Staff | 2154 |
| Lavin, Dorothy | Support Staff | 2120 |
| Lowe, Kelly | Support Staff | 2117 |
| Nixon, Colleen | Support Staff | 2121 |