Citizens Police Academy
The Citizen Police Academy is a 40-hour course designed to provide you, the citizen, with a working knowledge of the Yarmouth Police Department.  Our instructors, all Yarmouth Police Officers, will be presenting a wide range of topics during the course. Where possible, hands-on techniques are used to maximize the experience.  This Citizen Police Academy is not meant to be a spectator sport.
We expect students to participate so that we may learn as much from you as we hope you will learn from us. The Citizen Police Academy meets one evening a week for ten weeks at the Yarmouth Police Facility. Classes run from 6:30 p.m. to 10:00 p.m.
There is also one Saturday session and a four-hour ride along assigned each week after the third class. Some of the classes are held off-site and those are announced in advance.  Click here to register for the current Yarmouth Police Academy Class and join us!
We require a commitment from all of our students. Students are only allowed to miss a maximum of two classes and still graduate.   If you have any questions or are interested in joining an upcoming Citizen Police Academy class, please contact us at (508) 775-0445 or email us Lieutenant Patrick Carty.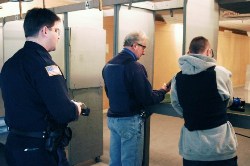 Ofc. Pasquerosa runs the range during the field day exercises.